2018 Exhibitions
Pupil
October 22, 2018 – January 25, 2019
The title of this exhibition is a homonym that speaks to the vision of the students producing the artwork. ​Pupil ​looks into the current work of LSU College of Art & Design students and graduates to better understand the various interpretations of art that each artist brings to the university. This exhibition shows the breadth of backgrounds, points of view, and various media fostered through the fields of study. Sourcing students from around the world, this confluence of creative energy creates a rich and diverse artistic cognizance.
It is important to understand how lived experience is reflected in the work artists produce, also to find the commonalities that are nurtured in these intensive years of scholarship and artistic mastery. Group shows like this give a snapshot of what art is, can be, and how this constant influx of an amalgamation of artists come to help lineate our cultural landscape.
Rodneyna Hart
Art Manager | Curator
Featured Artists:
Diana Abouchacra –  "What motivates me to create art is the hope to encourage more understanding in the world; ultimately to create unity between people. Through my work, I aim to raise awareness; to provoke more critical and deeper thinking. As an Arab-American, I have come to realize that the majority of U.S. mainstream media provokes and promotes fear towards minorities. Consequently, unable to assimilate into the dominant culture in the U.S., these marginalized individuals and their communities are often categorized as 'outsiders', automatically pushing them into the out-group, creating a rift."
Erfan Ghiasi – "The process of creating art is driven by my interest in exploring relationships among individuals within a society and theoretically and empirically engaging in the cultural analysis that concentrates upon the political dynamics of contemporary culture, defining traits, and conflicts. Exploring relationships among individuals within a society, the work examines social phenomena and ideologies such as class structures, national formations, and ethnicities. By utilizing diverse artistic mediums as a crucial means for turning thinking into doing in the world, I investigate how cultural practices relate to wider systems of power."
Kelsey Livingston – "My work explores the concepts of ephemerality, and potential through a visual metaphor. I use eggs, birds, skulls, galaxies, and nebulae in a combination of digital printmaking processes and hand drawn anthropomorphic narrative imagery. I am interested in the relationship one has to their own mortality. I am working through questions like: How does one deal with oblivion? Does the knowledge of death affect how one approaches with new life, or the concept of potential? Each work is representative of a moment in my life, and the lives of those I care for."
John Swincinski – "I paint with fire! – a phrase open to multiple interpretations. In the literal, I create my work with encaustic medium, a combination of beeswax and damar resin, requiring me to wield a blowtorch as I fuse and shape the many transparent and luminous layers. The heat reflecting off of the painting, the dance of light and the transformation as flame kisses the surface turning solid to liquid and back again in the blink of an eye, it all fuels my senses. It's reactive. I'm not just laying down layers to build a composition. With fire – the painting transforms. There is something primal and ancient about the use of fire in the creation of art."
Samantha Rosado – "My work is inspired by my understanding of my own body and what it means to be a woman today. I reference heteronormativity and hyper-sexualization of the body, specifically those of minority women. I aim to create an image of a more masculine woman in my work. It is important that there are elements that feel both female and male, expressing gender neutrality, evocative/sexual nature and feminist culture. I do this using shape, color and added elements in my paint or on its surface. This includes hair, charcoal, wood dust, sand or other mixed-media materials. I find myself creating movements that feel gritty, dirty, loud or violent, as opposed to the gentle, quant, attitude that is associated with how society believes women should behave."
John Alleyne – "My current practice is a meditation on the Black male experience. I am interested in exposing stereotypes of black masculinity via an alternative narrative within the aesthetic of barber hairstyle-guide posters. The individuals depicted in these posters tend to be anonymous, merely recognized and referred to as numbers. By appropriating these images, I attempt to inspire Black men to see themselves as a valid form of representation—to be viewed as being more than a number."
Clare Samani – "My work focuses on exploring the symbolism and identity inextricably intertwined between people and clothing. It centers around the exploration and communication of personhood and gender, through fashion. Currently, I physically work with articles of clothing that I am either given, have found, or have bought. I create object-based portraits using the fabric as both a material artifact and tool to creating imagery. These various clothing-based portraits serve as a growing anthropological index of different style and personalized iterations of expression. They become an exploration into the complex world of self-representation, cultural and personal identity, and fashion."
Carlie Salomons – Master of Fine Arts Candidate at Louisiana State University, Carlie earned her Bachelor of Fine Arts specializing in printmaking from the University of Hawaii Manoa in 2012. In 2016, she her professional printmaking certificate from the Tamarind Institute of Lithography.
Born in Canada but raised in Hawaii, Carlie's lithography prints tend to favor the imagery of the forest creature of the Canadian Rocky Mountains. "Solace" and "Tangled" is the beginning of a series of a fairytale story that revolves around the Mother bear. The Mother bear knits for the forest creature to provide warm and comfort.
---
Deconstructing Complacency
July 30, 2018 – October 19, 2018
This exhibition explores the relationship between identity and descent through dilettantism. Deconstructing Complacency combines photography, printmaking, and painting composed of simple and complex layers. The inspiration for this exhibition is the gaze of traditional painting, portraiture mark-making, and the depiction of the human form through a lens that can only exist in the mainstream in our era. What starts out as a way to simply convey a portrait turns into a sense of understanding the subject, peering into this moment of their lives and feeling a new reality that deconstructs the complacency in which we have come to know a snapshot, a painting, or a print. As wavering forms become clarified through practice, the viewer is left with a clue to the possibilities of the clarity of our vision.
Rodneya Hart
Curator & Art Manager
Featured Artists:

Kristen Downing : "My latest work speaks to the injustice that plagues America through the lens of vivid colors and linear shapes of those individuals who may not have had a chance to speak their peace or initiate change. I try to capture the feelings and emotions in every painting. My intention as an artist is to continue to motivate others to use their voice and activate their power so we can create change that will impact our society."
Dorthy Ray: "Using street art and satire as guiding points, my work collectively examines the role of the identity in promoting value in America."  
Danielle Burns 
Vernell Dunmas
---
Amorphic Abstractions
May 7, 2018 – July 20, 2018
Featured Artists:
Claire Gowdy : "My approach to the canvas is intuitive. I begin with a color palette in mind but the first brushstroke provides the guide for the compensation.  My process is organic, as color and mixed media are added and subtracted until I sense order and balance. In this series, I explore new color combinations and the juxtaposition of bold and muted. These works are reminiscent of cities, old exterior walls and weathered elements. 
Jennifer Carwile: "Carwile captured the essence, or memory of the landscape rather than portraying a particular scene. Her work explores the repetitious movement and organic textures that draw her to nature, frequently drawing from trips to the beach where she studies waves and erosion. Carwile paints on wood panels and frequently uses the wood grain to inspire her composition."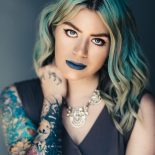 Kimberly Meadowlark: "Music has always been the backbone to what inspires me. I love to put color and shape to what I'm hearing. It might be a verse, or an entire symphony, my mind immediately fills with color when I sit and listen."
Kristen D. Serio: "Since childhood, I have vacationed extensively with my family. Maintaining a journal on these trips enabled me to preserve these experiences. By journaling, I am able to vividly retrieve memories of my travels and explore their connections to human emotions on canvas." 
---
SIZE Matters
January 26, 2018 – April 13, 2018
This exhibition explores the relationship between subject and viewer. For the viewer it speaks to their relationship within the space that the work generates. For the artists, this is their opportunity to use space to show what is truly meaningful in what they convey.
Early in art history we are taught that if you want a portrait or sculpture to seem life-sized, you must make them larger than life. This outside view of one's humanity directly relates to how we view our place in the world. When works are larger, the viewer must engage more space to take in the work in its entirety. The relationship from artwork and that individual's place in the world, grows exponentially.
Artists are keenly aware of this correlation and use size to make broad statements and varying impacts. At this scale, we are given insight into the intent of our artists. It is only when painting large that the artists can render artworks through full body movement. This is used to produce a brush stroke or zero in on a focal point down to the minute detail. This conversation of subject development shows what is meaningful to the artist and how they care to communicate that to you.
Featured Artists:
Brittany Howard : "Being able to see and experience new places, people, cultures and landscapes brings new vision and ideas to my composition. Something as simple as a flower pot sitting outside an old door in the New Orleans French Quarter brings just as much life to my work as a mountain top view overlooking one of the most beautiful cities in Thailand. My compositions are very distinctive for their bold use of color and textured layers of acrylic paint and other mediums. Never do I have a plan or idea when I begin, I let the brush take over and upon completion I feel as though the reason was there all along. I create not to be seen but to be experienced, allowing the viewer to make an honest connection between my work and their own emotions."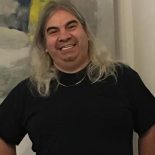 Tony Mose : "Everyone has a story of their past, present, and future. These stories combine and influence one's daily activities and how they live their life. Some stories can lead to a life of existence, and others a life of believing. My work is a study of characters you may see on a daily basis. Though they are similar and connected, their stories are very different, complex and influenced by their past. As the patron or viewer, you are the one to create the belief. I've simply given you a story"
Jennifer Ward : "My approach to painting is intuitive, thoughtful, and meditative. As a result, my paintings reflect a history of evolving ideas over a certain period of time. They generally evolve through a subtractive process, beginning with lots of color and bold vigorous brushstrokes and then working backwards."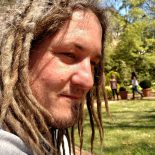 Tyler Haney : "I am fascinated with the way the human brain processes, interprets, and reevaluates external stimuli, especially the mechanics of our visual perception. I leverage cognitive psychology and physiology principles in the composition and subject matter of my airbrush paintings and collages. My aim is to present viewers with an echo of reality that triggers the imagination, creating a space that allows them to bring their own life experiences to bear as they 'read' the image." 
Jacob Zumo : "In a world full of spiritual, political, and racial differences, I try to create art which anyone can relate to. My goal is compositionally creating a way to make my art parallel to present day culture but spiritually driven as well. It is my belief that my art and my life as an artist is meant to subtly integrate and synthesize the two worlds in a way people may not see at first but can relate to, and cause them to take a deeper look into situations and circumstances of life to hopefully bring about positivity and a change to the world."
---