2018 Exhibitions
SIZE Matters
January 26, 2018 – April 13, 2018
This exhibition explores the relationship between subject and viewer. For the viewer it speaks to their relationship within the space that the work generates. For the artists, this is their opportunity to use space to show what is truly meaningful in what they convey.
Early in art history we are taught that if you want a portrait or sculpture to seem life-sized, you must make them larger than life. This outside view of one's humanity directly relates to how we view our place in the world. When works are larger, the viewer must engage more space to take in the work in its entirety. The relationship from artwork and that individual's place in the world, grows exponentially.
Artists are keenly aware of this correlation and use size to make broad statements and varying impacts. At this scale, we are given insight into the intent of our artists. It is only when painting large that the artists can render artworks through full body movement. This is used to produce a brush stroke or zero in on a focal point down to the minute detail. This conversation of subject development shows what is meaningful to the artist and how they care to communicate that to you.
Featured Artists:
Brittany Howard : "Being able to see and experience new places, people, cultures and landscapes brings new vision and ideas to my composition. Something as simple as a flower pot sitting outside an old door in the New Orleans French Quarter brings just as much life to my work as a mountain top view overlooking one of the most beautiful cities in Thailand. My compositions are very distinctive for their bold use of color and textured layers of acrylic paint and other mediums. Never do I have a plan or idea when I begin, I let the brush take over and upon completion I feel as though the reason was there all along. I create not to be seen but to be experienced, allowing the viewer to make an honest connection between my work and their own emotions."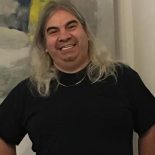 Tony Mose : "Everyone has a story of their past, present, and future. These stories combine and influence one's daily activities and how they live their life. Some stories can lead to a life of existence, and others a life of believing. My work is a study of characters you may see on a daily basis. Though they are similar and connected, their stories are very different, complex and influenced by their past. As the patron or viewer, you are the one to create the belief. I've simply given you a story"
Jennifer Ward : "My approach to painting is intuitive, thoughtful, and meditative. As a result, my paintings reflect a history of evolving ideas over a certain period of time. They generally evolve through a subtractive process, beginning with lots of color and bold vigorous brushstrokes and then working backwards."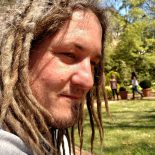 Tyler Haney : "I am fascinated with the way the human brain processes, interprets, and reevaluates external stimuli, especially the mechanics of our visual perception. I leverage cognitive psychology and physiology principles in the composition and subject matter of my airbrush paintings and collages. My aim is to present viewers with an echo of reality that triggers the imagination, creating a space that allows them to bring their own life experiences to bear as they 'read' the image." 
Jacob Zumo : "In a world full of spiritual, political, and racial differences, I try to create art which anyone can relate to. My goal is compositionally creating a way to make my art parallel to present day culture but spiritually driven as well. It is my belief that my art and my life as an artist is meant to subtly integrate and synthesize the two worlds in a way people may not see at first but can relate to, and cause them to take a deeper look into situations and circumstances of life to hopefully bring about positivity and a change to the world."
---